BALI BESAKIH TOUR IS TO ENJOY EXPERIENCE VISITING BESAKIH TEMPLE THE BIGGEST AND AS A MOTHER TEMPLE IN BALI ISLANDS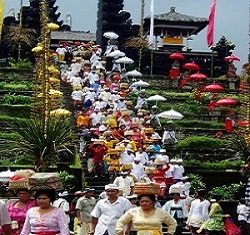 Bali Besakih Temple is the biggest Hindu temple in Bali which the local people call Pura Besakih. It owns beautiful view from the top of temple area where we can see the wide nature panorama until to the ocean so that way this temple is many visited by tourists from all over the world. Besakih Temple is located in Besakih countryside, Rendang sub district, Karangasem regency, east part of the island. It is located in southwest side bevel of mount Agung, the biggest mounts in Bali. It is because pursuant to Agung Mount confidence is holiest and highest mount in Bali Island. Bali's "mother temple",Besakih temple, is over 900 metres up the slopes of Gunung Agung. It has been regarded as a holy place since pre-historic times in Bali. The first recorded mention of its existence is from an inscription that dates from 1007 A.D. Since the Gelgel dynasty of the fifteenth century it has been regarded as a central, holy temple for the entire island.
All the allegiances of the Balinese people come together at Besakih. Each regency has its own temple within the over-all compound, as do each of the caste groups. There is a total of 18 separate sanctuaries. The three main temples are : Pura Penataran Agung, Dedicated to Sang Hyang Widi Wasa : Pura Kiduling Kreteg, dedicated to Brahma; and Pura Batu Madeg, dedicated to Wisnu.
To the Balinese a visit to the temple sanctuaries at Besakih temple is a special pilgrimage. Each temple has its own odalan, or anniversary celebration, and on the full moon of the Balinese month "Kedasa" the entire compound of Besakih celebrates the visit of the gods, with an enormous throng of visiting pilgrims.
The Besakih's name is come from the word of Basuki, the old language from Sanskrit Wasuki, and then it become the Ancient Java Language. In this Sanskrit, the Basuki means congratulation. In mythology of Samudramanthana has mentioned that Basuki is a dragon that twines the Mount Mandara. The omission has come from tradition megalithic which had been indicated that it had to be sanctified place. It seems, the Besakih temple is coming from very old era which is far before the existence of Hinduism influence. Hereinafter, an Ancient Bali king of Sri Kesari Warmadewa found the Merajan Selonding Temple in this temple complex area. He also commands to build the Blanjong Monument that is located in Sanur Village. The Besakih Temple complex is built pursuant to cosmos balance. It is based on the nature conception which is disseminating the fundamental temple complex that is arranged to pursuant of the way direction. So, this building can deputize nature as symbolic of the world balance existence.
As we familiarize, that the point direction way like East, South, West, North, and middle as center point and each direction is named by Mandala. In Hindu philosophy, Panca Dewata is manifestation of Siwa God. Like Penataran Agung Temple as center, we find in its courtyard conception show the solidarity conception between the original Indonesia culture namely tradition megalithic in form of Punden Berundak-undak with the Hinduism concept. The ancient omissions which is existing in Besakih Temple complex can be classified into 2 types those are omission pertained by megalithic tradition and classic era. Besakih Temple beside as the altar for Hindu people in Bali, it is also as tourist destination which is a lot of visited by tourists. Bali Goa Lawah or Bat Cave Temple is one of favorite places of interest in Bali and it is located near of hilly bank so it is called reef of Middle hill. This cave is located in Pasinggahan countryside, Dawan sub district, Klungkung Regency, east part of Bali and about 1,5 hours from Denpasar Town. There is a nature cave dwelt by thousands of tail bat located at north side from Jeroan/center of Gua Lawah Temple . Meanwhile the main road from Klungkung to Amlapura is just in front of the temple. This cave is apposite to the beautiful beach with black sand along the coastal area.
Bali Kerta Gosa located in Klung kung Regency and use a s justice court palace long time ago. As the former kingdom, if reasonable Klungkung has many a time this is a tourism object. One of them is the Taman Gili in Kerta Gosa, cultural heritage Semarapura Klungkung Palace. Kerta Gosa is a building (bale), which is part of the building complex Semarapura Palace and was built around 1686 by peletak basis of power and the first holder of the throne that is the kingdom of Klungkung Ida I Dewa Agung Jambe.
Goa Lawah Temple, a shrine for Balinese Hindu
Pursuant to the papyrus of Dwi Jendra Tattwa, the Goa Lawah's name is Goa Lelawah, the name which is given by Danghyang Nirartha (a priest overspread the Hindu teaching in Bali) when he stop in this place on his Tirtha Yatra trips. He arrive at a cave which is a lot of bats hang on and its unbroken voice clamor as hymn to add the beauty of the cave. Therefore this cave is named by Goa Lawah or Bat Cave. On the above cave is growth by the flower trees with it's smelt fragrance and stimulus the peace mind of Danghyang Nirartha, so that he overnight stay for some nights in this place. From the cave we see also the beautiful coast with the blue ocean with Nusa Penida Island as a backdrop.
Goa Lawah Temple History
According to the chronicle of Bendesa Mas, it mentions that the elaborations of Mpu Kuturan (a Hindu priest who come from Java) then he live in Bali which has been hosted in Silayukti, Padang Bai. He also builds some temple like Gua Lawah Temple
According to the Papyrus of Dwijendra Tattwa, it narrates that after Danghyang Nirartha stay some nights at Goa Lawah, then he build a Kahyangan Temple on the ground. It means that Danghyang Nirartha extends the Palinggih or temple building existing at Gua Lawah Temple .
Bali tourist attraction is a cave located on the beach called Beach Kusamba, at the mouth of the cave there is a temple named Pura Goa Lawah (Goa Lawah Temple).
Goa Lawah very interesting to visit because of strategic location off the coast with views of sea and island of Nusa Penida in the distance and the arrangement of beautiful beaches. On the beach sometimes tourists can witness traditional ceremonies and activities can also see bats hanging from the edge of the cave. Bali tourist attraction makes this one worth your visit with your family during the holidays to Bali
Location : Goa Lawah Klungkung located in approximately 1 hour drive from Denpasar City or 4 miles from the center of Semarapura which is the district capital Klungkung.
History : In Goa Lawah consists of two syllables of the cave, which means cave and Lawah which means bat cave where Lawah tail inhabited by thousands of bats in the mouth of this Bali attractions there is a temple Khayangan Jagat status. Goa Lawah Temple is a sacred and beautiful area. There was a blend of sea and mountains (linga-yoni). As the name suggests, this temple there is a cave inhabited by thousands of bats. While at the mouth of the cave there are several palinggih Stana of the Gods. In the yard, also stood firm several Meru and other sthana. Narrated MPU Kuturan come to Bali during the tenth century the government-led Children's Youngest brother of King Airlangga. Airlangga own rule in East Java (1019-1042). When he arrived, mpu Kuturan find many sects in Bali. Seeing the fact that, mpu Kuturan then develop the concept of Tri Murti with the aim of uniting all these sects Kuturan MPU also teaches making heaven Pakraman Three in every village in Bali as well as confirmed the presence of Jagat heaven that one of them is Goa Lawah Temple